The chip has extensive energy harvesting capabilities and power management features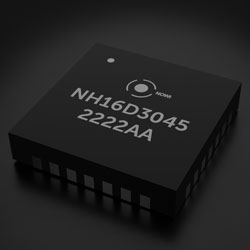 07-04-2022 | now | Semiconductors
Nowi has launched the latest addition to its portfolio with Diatom. Known for creating one of the smallest and most cost-effective energy harvesting PMICs on the market, it has unveiled a new chipset that offers various never-before-seen features.
With an ultra-compact size of 4mm x 4mm, it is a high-performance energy harvesting PMIC with an extended power input range from microwatts to milliwatts and a unique ultra-fast MPPT that provides optimal recovery efficiency. It is created to extract power output from a wide range of energy harvesters to charge various energy storage elements such as rechargeable batteries or supercapacitors. Its innovative cold start feature enables battery-free applications, helping businesses reduce their maintenance costs related to battery maintenance while providing their customers with a longer lasting, easier to use option.
The device was designed to meet customer requirements, meeting their demand for increased integration to reduce cost, size, and implementation complexity while improving performance. It combines integrated energy harvesting and power management in one product to act as a complete power supply offering features such as regulated output, surge protection and USB charging.
Simon van der Jagt, CEO of Nowi, added: "Diatom's inductor-free design and integrated power management features allow customers to further reduce implementation costs and the area required to achieve optimal performance. . We are very proud of this new product and look forward to the new customer designs it will make possible."
It allows power autonomy in various low power applications. The possibilities are endless – from the smart home to Industry/Retail 4.0 such as IoT devices, ESLs, to smart wearables including smart wristbands, eyewear and consumer electronics such as remote controls and tags; it perpetually supplies the devices with clean ambient energy. This new addition to its PMIC portfolio further simplifies the design process and lowers the threshold for any company to develop energy self-sufficient products.